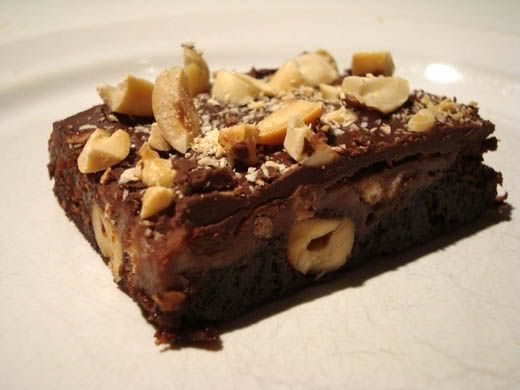 I bet you're all getting sick of my posts featuring caramel! I can't help it though... I'm such a sucker for caramel, butterscotch, dulce de leche... anything along those lines. That sweet, ooey-gooey-ness is MY ultimate comfort food.
I made these bars using a shortcut brownie mix for the base. I like to stock up on cake mixes and brownie mixes when they go on sale because even though I could easily whip up a batch from scratch, sometimes it's nice to indulge in super-processed out-of-a-box fare. To my defense, at least I doctored these to make them seem more home made! I usually have at least one yellow, one white, one chocolate/devil's food, one brownie mix in my pantry - for 'emergencies' - wink wink.
The bars are totally moist and fudgy, no cakey brownies here! They also have a nice dense, firm but chewy texture.
Caramel Peanut Brownies
9" x 13" pan
INGREDIENTS
1 pkg brownie mix & ingredients as needed to make mix (I used Betty Crocker)
1 cup coarsely chopped unsalted peanuts, divided
1 lb. caramels - about 60 pc.
3 tbsp heavy cream (or more as needed)
1/2 cup rice krispies
1 1/2 cups chocolate chips
PROCEDURE
1. Preheat oven to 350 degrees F. Grease a 9 x 13 inch pan.
2. Make brownie mix as directed on box, omitting a tbsp or so of liquid so you hve a thicker batter. Stir in 1/2 cup peanuts. Pour into prepared pan. It should be quite a thin layer of batter - about 1/2". Bake until almost fully done - 20-30 minutes.
3. Meanwhile, melt caramels with cream in a saucepan on low-medium heat until smooth. Stir in rice krispies. If mixture still seems too thick, add more cream bit by bit. It should be about as thick as honey or Jell-o pudding. Spread over hot baked brownie and return to oven for 8-10 minutes.
4. Remove from oven and sprinkle with chocolate chips. Let sit for a few minutes to melt, then spread evenly with a metal spatula. Sprinkle immediately with remaining 1/2 cup chopped peanuts. Set aside to cool fully (overnight is good!). Do not refrigerate before cutting or they will be too hard to cut through.