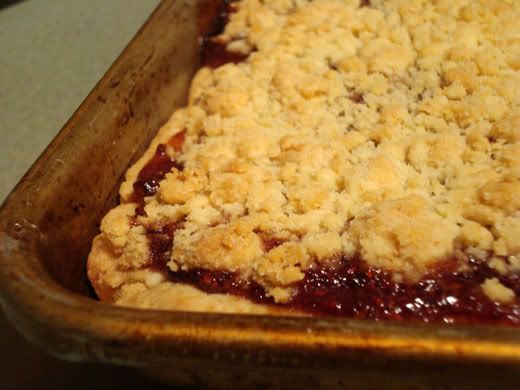 It's fortunate that this recipe makes a lot of bars because they are so addictive. Nancy Silverton describes these as "the single most addictive pastry" that they sell in her bakery. The recipe comes from:
Pastries from La Brea
. I don't know why this book only got 4/5 stars on Amazon. I loved it and thought it was a real gem! The only negative I can see is that some recipes are more involved and require some advance prep for chilling/rising times, but the results are always stellar.
Don't be put off by the 1 lb of butter called for in this recipe. It makes a
lot
of bars - a whole jelly-roll pan full!!! With a food processor they come together in minutes (but require 1+ hrs to chill before baking). These sturdy jam bars travel well and unlike other crumble topped bars the topping actually stays on instead of falling off when you pick them up!
Raspberry Jam Breakfast Bars
Nancy Silverton | 10"x16" tray
crust
4 cups flour
1/4 tsp salt
1/2 cup sugar
1/2 cup brown sugar
1/2 cup corn starch
2 cups butter, chilled and cubed
2 cups raspberry jam
streusel
2 1/2 cups flour
1/2 cup sugar
1/4 tsp salt
1 1/4 tsp baking powder
10 tbsp butter, cubed
1 egg, beaten
DIRECTIONS:
1. For crust, combine all dry ingredients in a food processor. Add butter and pulse until dough begins to come together. Turn onto floured surface and roll into a 10x16 inch rectangle. Place on jelly roll pan lined with parchment or silicone liner. Refrigerate 2 hours or overnight.
2. Prepare the topping. Combine all streusel ingredients in a food processor except butter and egg. Add butter and pulse until resembles coarse meal. Transfer to a bowl and add beaten egg, tossing with your hands. It should be crumbly and uneven. Chill until ready to use.
3. Preheat oven to 350 degrees F. Bake crust for 20-25 minutes until lightly golden. Spread raspberry jam over the crust, leaving 1/4 inch uncovered around the edges. Cover with steusel topping and bake for another 40 minutes, until golden. Cool thoroughly before cutting into bars.